NATALIA COZZI
Natalia Cozzi, Agile Lead at Holcim EMEA Digital Center, shares with us what the agile culture is, its benefits, how it has transformed the way of working within the organization and key factors for success. Do you want to know more about agility? Check out the article.
WHAT IS AGILTY?
Embracing an agile mindset enables organizations to create a culture that truly values flexibility, collaboration, experimentation and learning. Such a mindset also breaks down silos, encourages teams to embrace change and focuses on delivering value to customers.
What is agility and why adopting an agile culture?
In general terms, Agility, and especially the Agile Frameworks such as Kanban, Scrum or SAFe, are a group of guidelines and best practices that work as a toolbox for organizations to manage complex projects and software development in an iterative manner, delivering value to customers more frequently, incrementally and in a more predictable way.
This means that instead of focusing on a big launch after a long period of time, as it is the case in traditional Project Management, Agile teams break down a project or product development into smaller pieces of functionality (increments) that can be implemented and delivered in short cycles (iterations) that last just a few weeks. By doing this, Agile Teams are able to develop products that respond more flexibly and adapt more easily to customers whose needs and priorities are changing at a faster pace nowadays, as the so-called VUCA environments (Volatile, Uncertain, Complex and Ambiguous) have become the norm in industries like ours.
Image

CRM Team Board at Holcim EMEA Digital Center
Agility fosters a growth mindset based on a continuous improvement cycle of Team events that start with a plan, followed by a brief execution or implementation phase, and a final inspection or reflection on how the cycle went in order to learn and adapt in the upcoming cycles by implementing improvement actions identified. In this sense, it is similar to the Deming Cycle also known as "Plan-Do-Check-Adjust" (PDCA) Cycle.
Image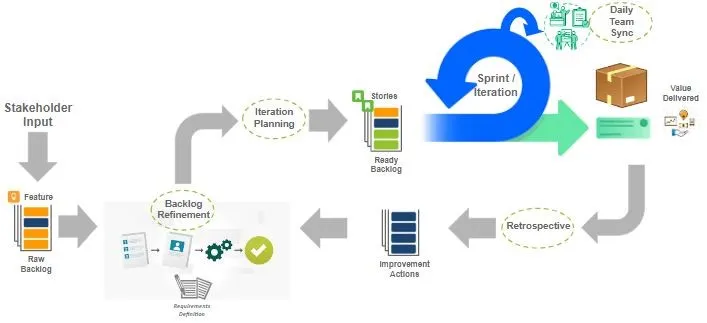 Prototypical flow through the Scrum process. EMEA DC's Adaptation from Source: Matthies, Christoph & Dobrigkeit, Franziska. (2021). Experience vs Data: A Case for More Data-Informed Retrospective Activities.
For all the above reasons it can be said that Agility is a culture of continuous learning and continuous improvement that fosters transparency, collaboration and accelerates Team's performance and value delivery to Business, enhancing productivity, employee engagement and customer satisfaction.
Building an agile culture: Holcim EMEA Digital Center story
At Holcim EMEA Digital Center we started our agile journey back in 2019 in a context of operational performance and customer satisfaction challenges. It was time for a change, not only in our way of working, but also in our way of thinking.
With a clear objective set forth of reducing lead times, increasing value delivery and improving customer satisfaction, we launched a Transformation Program that tackled the Demand and Change Management processes and focused mainly on Demand Capture, Demand Evaluation and Agile Delivery. We started working with agility by adopting Kanban and Scrum as reference frameworks in a total of 14 teams. We soon saw the first results of the new ways of working with a notorious improvement in our delivery of value and in the reduction of our delivery times that translated into a clear improvement in customer satisfaction in the annual survey.
Therefore, building upon the strong foundations already achieved, in 2020 we took our Agility to the next level by launching a Team of Agile Teams (also known as Agile Release Train) under the umbrella of the Scaled Agile Framework (SAFe), hosting our first Program Increment Planning event in November 2020 and bringing together all 14 Teams in Regional Applications plus stakeholders from other departments, such as PMO, Global I&O, Data Science, Availability, Digital Platforms, as well as the Business Relationship Managers from all EMEA Countries.
Image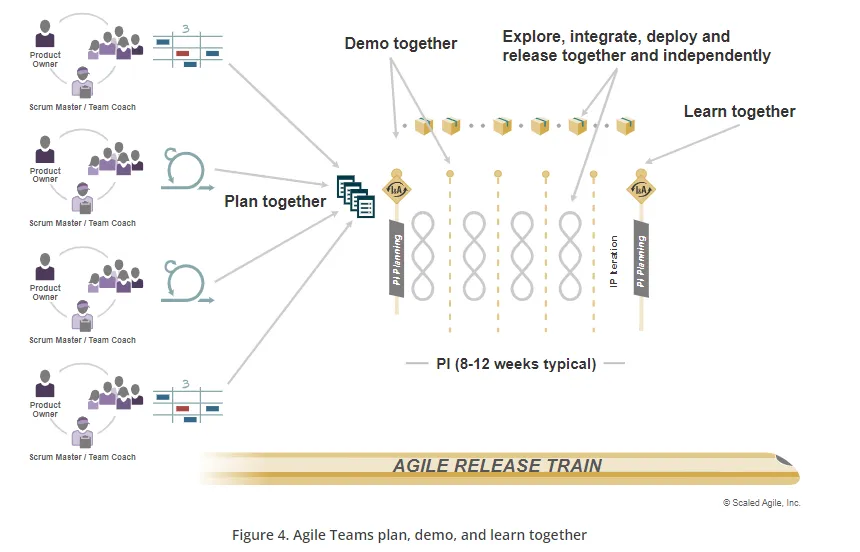 Agile Teams plan, demo, and learn together. Source: © Scaled Agile, Inc.
Since then our "Agile Express" Train has continued running for 13 Program Increment cycles of about 2.5 months each, divided into 5 two-week Iterations, and along the way we have learned and improved significantly in collaboration, dependencies management and higher visibility for the business, achieving
✔      an average Lead Time reduction of 49%
✔      a consistent annual increase in our Customer NPS
✔      a good Employee Engagement becoming a Certified Great Place to Work in 2021.
Which have been the key success factors and the best practices along the way? 
We can say proudly that the results achieved by the Agile Transformation at Holcim EMEA Digital Center are excellent and have been conquered over a relatively short period of time. The reason behind this can be attributed to multiple Key Success Factors, among which I'd like to highlight the following:

●       Willingness to learn, experiment and improve continuously - assuming the transformation as a journey, not a destination, being open to change, constantly observing, reflecting and capitalizing on learnings by taking action as soon as improvement opportunities are identified.
●       Setting Clear and Shared Objectives - the transformation just for the sake of changing wouldn't have gotten us too far without getting stale and meaningless. However, having a clear and shared purpose that keeps evolving and adapting to the new circumstances as time passes, has kept us on track and motivated to continue going for more.
●       Creating a Lean-Agile Center of Excellence (LACE) Team to lead the transformation and drive the change - giving continuity and facilitating the entire process, because organizations cannot transform on their own… They need guidance, Coaching on a permanent basis on Agile values, principles and practices to develop the right mindset. In that sense, the LACE Team ensures to give appropriate Training to all key roles, fosters continuous Improvement and continuous Learning and Communicates the vision and progress of the transformation to the entire organization.
●       Counting on Sponsorship & Servant Leadership - clearly, the main ingredient for any change to occur in an organization is strong leadership and support from top and middle management. In our case we counted on it from day 1, with direct and ongoing sponsorship from our CEO, top management's participation in the LACE Team, as well as high involvement from middle management into fostering positive change and collaboration, with a learning and growth attitude at the service of the team.
●       Fostering Empowerment & Self-Management - An empowered team that can make decisions more autonomously, without micromanagement, is a motivated team, and a motivated team gets results! As the Agile Manifesto states, Agile organizations should: "Build projects around motivated individuals. Give them the environment and support they need, and trust them to get the job done."
Image